Baby Dolittle: World Animals is the 8th Baby Einstein video. It was released on July 24, 2001.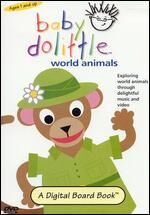 Puppets
Jane The Monkey
Roary The Lion
Georgia The Giraffe
Soapy The Bear
Kenny The Fox
Wanda The Fish
Coco The Cockatoo
Otto The Owl
Sidney The Squirrel
Sandy The Seal
Slick The Shark
Flossy The Flamingo
Pucho The Crab
Penny The Peacock
Noah The Elephant
Mozart The Koala
Andy The Panda
Jack The Whale
Zorra The Lion
Beethoven The Giraffe
Monet The Zebra
Galileo The Kangaroo
Wordsworth The Parrot
Surfin' The Sea Turtle
Isaac The Lion
Sandy The Seahorse
Morris The Moose
Bud The Parrot
Harry The Hippo
Bonkers The Frog
Divin' The Dolphin
Oliver The Octopus
Neptune The Turtle
Lizzy The Tiger
Mimi The Monkey
Joyce The Reindeer
Bubbles The Elephant
Daisy The Jellyfish
Stripey The Zebra
Carol The Chameleon
Gutteral The Kangaroo
Gruce The Gorilla
Rudy The Reindeer
Sizzle The Snake
Phoosy The Flamingo
Da Vinci The Monkey
Kathy The Koala
Tatting The Tiger
Hugo The Hippo
Ally The Crocodile
Zack The Lobster
Ollie The Otter
Ryan The Rhino
Mommy Galileo The Kangaroo
Animals In The Jungle
Tiger
Tropical Bird
Monkey
Flamingo
Snake
Panda
Chameleon
Gorilla
Peacock
Animals In The Forest
Fox
Bear
Squirrel
Deer
Owl
Koala
Bat
Animals In The Ocean
Sea Turtle
Dolphin
Fish
Seahorse
Whale
Shark
Octopus
Crab
Seal
Jellyfish
Lobster
Penguin
Polar Bear
Animals On The Savannah
Elephant
Giraffe
Lion
Zebra
Hippo
Rhino
Cheetah
Kangaroo
Ostrich
Crocodile
Community content is available under
CC-BY-SA
unless otherwise noted.