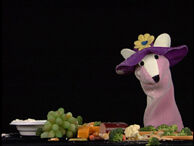 Violet the Mouse is a Baby Einstein toy. She appears in Neighborhood Animals, Baby Galileo, Numbers Nursery, Baby MacDonald, Baby Noah, Baby Monet, Baby Wordsworth, On The Go, Meet the Orchestra, Baby's Favorite Places, Baby's First Moves, Lullaby Time, Baby's First Sounds, and Animals Around Me.
Neighborhood Animals
Baby Galileo
Numbers Nursery
Baby MacDonald
Baby Noah
Baby Monet
Baby Wordsworth
On The Go
Meet The Orchestra
Baby's Favorite Places
Baby's First Moves
Lullaby Time
Baby's First Sounds
Animals Around Me
Community content is available under
CC-BY-SA
unless otherwise noted.