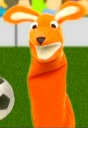 Sunny is a rabbit baby Einstein puppet. Her daughter of Easter and her son of Bach.
Baby Mozart
Baby Bach
Baby Van Gogh
Neighborhood Animals
Baby Vivaldi
Baby Beethoven
Baby Neptune
Baby Galileo
Numbers Nursery
Baby MacDonald
Baby Da Vinci
Baby Noah
Baby Monet
Baby Wordsworth
On The Go
Meet The Orchestra
Baby's First Moves 
My First Signs 
Discovering Shapes 
Baby's First Sounds 
Prism's World Of Colours
Baby Mozart Discovery Kit
Baby Bach Discovery Kit
Animals Around Me
Baby VivaldI Discovery Kit
Baby Beethoven Discovery Kit
Art Time Classics Video Version
Baby Einstein Puppets Neptunepalooza!
Baby Einstein Puppets 25th Years A Musical Celebration!
Discovering the Sky with Galileo the Kangaroo (Cecil Limited Only)
Community content is available under
CC-BY-SA
unless otherwise noted.