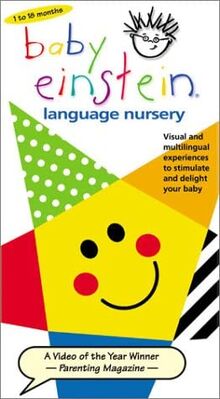 Language Nursery (a.k.a. Baby Einstein) is the 1st video. It was released on January 31, 1997 on VHS and was originally called Baby Einstein. It was released on DVD also in 2000, and re-released in 2002, 2003, & 2004 respectively.
Trivia
Original versions of Toys in the next video, Baby Mozart.
On the back of the cover, we see some pictures of red and white squares, foam blocks [replaced with Big blocks], and Roly Poly Cow.
On 2003 releases, it featured a caterpillar instead of a sea starfish.
Opening to Language Nursery 2002 DVD (Nick Jr. Version)
Paramount Warning Screen August 27, 2002
DVD Menu
Warning Screen
Bear In the Box
Opening Titles
Fish Bowl
Community content is available under
CC-BY-SA
unless otherwise noted.