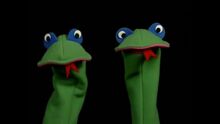 Knee Deep is a frog from Baby Einstein puppet. His Family Frogs In Bonkers and Phineas.
Appearance
Edit
Knee Deep Is A Green Frog With Blue Eyelids And A Red Tongue Inside A Pink Mouth. In Fact, He's One Of A Few Characters To Feature A Tongue.
Appearing From The Videos
Edit
Baby Mozart
Baby Bach
Baby Shakespeare
Baby Santa's Music Box
Neighborhood Animals
Baby Vivaldi
Baby Beethoven
Baby Neptune
Baby Galileo
Numbers Nursery
Baby MacDonald
Baby Da Vinci
Baby Noah
Baby Monet
Baby Wordsworth
On The Go
Meet The Orchestra
Baby's Favorite Places
Baby's First Moves
My First Signs
Discovering Shapes
Lullaby Time
Baby's First Sounds
World Animal Adventure
Baby Mozart Discovery Kit
Baby Bach Discovery Kit
World Of Words
Animals Around Me
Baby Vivaldi Discovery Kit
Baby Beethoven Discovery Kit
Neptune's Oceans
World Of Rhythm
Baby Einstein Puppets Neptunepalooza!
Baby Einstein Puppets 25th Years A Musical Celebration!
Community content is available under
CC-BY-SA
unless otherwise noted.