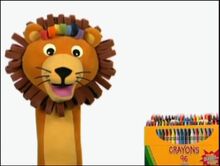 Issac the lion is the brainy of the Godrod family. He has a sister named Zorra The Lion a shape clown named Benjamin. He was made as a puppet designed by David Privett, one of the puppeteers and voice actors. He has horse personality and disguise. But he Character in Funtime Luna.
Appearing From The Videos
Edit
 Language Nursery
 Baby Mozart
 Baby Bach
 Baby Shakespeare
 Baby Van Gogh
 Baby Santa's Music Box
 Neighborhood Animals
 World Animals
 Baby Vivaldi
Baby Newton
Baby Beethoven
Baby Neptune
Baby Galileo
Numbers Nursery
Baby MacDonald
Baby Noah
Baby Monet
Discovering Shapes
Language Nursery 2008
Baby Mozart 2008
Baby Bach 2008
World Music
World Animal Adventure
Wild Animal Safari
Baby Mozart Discovery Kit
Baby Beethoven Discovery Kit
Baby Bach Discovery Kit
Baby Vivaldi Discovery Kit
Baby Einstein Puppets Neptunepalooza!
Baby Einstein Puppets 25th Years A Musical Celebration!
Community content is available under
CC-BY-SA
unless otherwise noted.