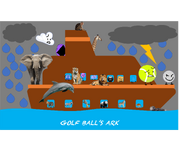 Golf Ball's Ark is a video created by Chaosman88, based on Noah's Ark & Baby Noah.
The cast of characters includes 8-Ball, 9-Ball, Anchor, Avocado, Balloony, Barf Bag, Basketball, Battery, Bell, Birthday Cake, Black Hole, Blender, Blocky, Bomby, Book, Boom Mic, Bottle, Bracelety, Bubble, Cake, Camera, Clapboard, Clip, Cloudy, Coiny, Conch Shell, CRT, David, Discy, Donut, Dora, Eggy, Eraser, Fanny, Firey, Firey Jr, Flower, Foldy, Fries, Gaty, Gelatin, Golf Ball, Grassy, Ice Cube, Income Tax Return Document, Kitchen Sink, Leafy, Leek, Lightning, Liy, Lollipop, Loser, Marker, Match, Naily, Needle, Nickel, Onigiri, PDA, Pen, Pencil, Pie, Pillow, Pin, Portable Music Player, Price Tag, Profily, Puffball, Purple Face, Remote, Robot Flower, Roboty, Rocky, Rubber Spatula, Ruby, Rusty Coin, Salt Lamp, Saw, Scissors, Shampoo, Shopping Cart, Snare Drum, Snowball, Spongy, Stapy, Steamy, Taco, Tape, Teardrop, Tennis Ball, Tree, TV, VHSy, Winner, Woody and Yellow Face from Battle For Dream Island.
Characters
Golf Ball (Main Protagonist) (Michael Huang)
Tennis Ball (Cary Huang)
8-Ball (Cary Huang)
9-Ball (Taft Marz)
Anchor (Joseph Pak)
Avocado (Wolfy G.)
Balloony (Satomi Hinatsu)
Barf Bag (Kenzie Bryant)
Basketball (Satomi Hinatsu)
Battery
Bell (Kenzie Bryant)
Birthday Cake (Kenzie Bryant)
Black Hole (Satomi Hinatsu)
Blender
Blocky (Michael Huang)
Bomby (Satomi Hinatsu)
Book (Michael Huang)
Boom Mic
Bottle (Satomi Hinatsu)
Bracelety (Cary Huang)
Bubble (Michael Huang)
Cake (Kenzie Bryant)
Camera (Kenzie Bryant)
Clapboard (Wishfixerz)
Clip (Dane Trent)
Clock (Satomi Hinatsu)
Cloudy (Michael Huang)
Coiny (Michael Huang)
Conch Shell
CRT (Griffin Weber)
David (Michael Huang)
Discy (Poppy Hughes)
Donut (Michael Huang)
Dora (N/A)
Eggy (Katherine Sun)
Eraser (Michael Huang)
Fanny (Satomi Hinatsu)
Firey (Michael Huang)
Firey Jr. (Satomi Hinatsu)
Flower (Michael Huang)
Foldy (Cindy Jiang)
Fries (Michael Huang)
Gaty (Satomi Hinatsu)
Gelatin (Ian Woodside)
Grassy (Cary Huang)
Ice Cube (N/A)
Income Tax Return Document (Some_Nerd)
Kitchen Sink
Leafy (Michael Huang)
Leek (Amor Boretto)
Lightning (Sabrina Barba)
Liy (Sabrina Barba)
Lollipop (Sam Lee)
Loser (Michael Huang)
Marker (Cary Huang)
Match (Cary Huang)
Naily (Katherine Sun)
Needle (Kenzie Bryant)
Nickel (Adam Katz)
Onigiri
PDA (Multi S.V. Puliyze)
Pen (Michael Huang)
Pencil (Michael Huang)
Pie (Sam Lee)
Pillow (Cindy Jiang)
Pin (Cary Huang)
Portable Music Player (Dave From Boyinaband)
Price Tag (Wolfy G.)
Profily (Niall Burns)
Puffball (Michael Huang)
Purple Face (Main Antagonist) (Justin Chapman)
Remote (Text-To-Speech)
Robot Flower (Michael Huang)
Roboty (Morse Code)
Rocky (N/A)
Rubber Spatula (Samuel Thornbury)
Ruby (Cary Huang)
Rusty Coin (Justin Chapman)
Salt Lamp
Saw (Satomi Hinatsu)
Scissors (Shane Cobalt)
Shampoo (Ricardo Smith)
Shopping Cart (King)
Snare Drum
Snowball (Michael Huang)
Spongy (Cary Huang)
Stapy (Sam Lee)
Steamy (Justin Chapman)
Taco (Kenzie Bryant)
Tape (Nash Chorney)
Teardrop (N/A)
Tree (Thomas Chick)
TV (N/A)
VHSy
Winner (Schazer)
Woody (Michael Huang)
Yellow Face (Michael Huang)
Trivia
There are no teams this time.
The Announcer, Four, Two And X aren't featured because the story for this video is different and it doesn't involve them.
This video is the replacement for another video by Chaosman88 called A BFDI Animal Adventure, which was the inspiration behind The A-Zoo.
This is the first video to feature the rest of the TPOT debuters, since only Winner and Price Tag were first featured in Poetry In Motion.
This is the second video to feature Rusty Coin. The first is Poetry In Motion.
This is the first video to feature Birthday Cake, Portable Music Player, CRT, Steamy and Clip.
Nonexisty is the only TPOT debuter that isn't featured, because he "didn't show up".
Script
Community content is available under
CC-BY-SA
unless otherwise noted.