Unknown
Galileo Kangaroo Puppet with T-Shirt from Baby Galileo (2003-2009).

Vital statistics

Start
Baby Bach
End
Baby Lullaby
Prerequisites
Unknown
Level
Unknown
Location
Unknown
Rewards
Unknown

Quest progression

Previous
Next
Twin Rattle
Randy Raccoon Puppet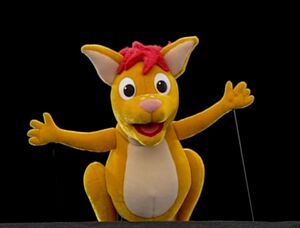 Galileo Kangaroo Puppet was a toy which appeared in Baby Bach (1998-2010), Baby Dolittle: World Animals (2001-2009), Baby Galileo (2003-2009), Baby Da Vinci (2004-present), Baby Noah (2004-2009), Baby Wordsworth (2005-2009), On the Go (2005-present), Meet the Orchestra (2006-present), Baby's Favorite Places (2006-2009), Baby's First Moves (2006-2009), Lullaby Time (2007-present), Baby's First Sounds (2008-present), World Animal Adventure (2009-present), Wild Animal Safari (2010-2012), and Baby Lullaby (2011-2012). This toy was manufactured by a company known as Playsoup and is discontinued. It can be put on with a T-shirt from 2003-2009 in Baby Galileo.
Appearing
Baby Bach 1998-2010
Baby Dolittle: World Animals 2001-2009
Baby Galileo 2003-2009
Baby Da Vinci 2004
Baby Noah 2004-2009
Baby Wordsworth 2005-2009
On the Go 2005
Meet the Orchestra 2006
Baby's Favorite Places 2006-2009
Baby's First Moves 2006-2009
Lullaby Time 2007
Baby's First Sounds 2008
World Animal Adventure 2009
Wild Animal Safari 2010-2012
Baby Lullaby 2011-2012