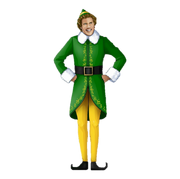 Buddy Is The Main Character From Elf. He's Played By Will Ferrell, And He's A Hilarious Character In Elf. He Is An Amazing Character And A Big Bird Replacement In Modern Seasons Of Character Street. He Wants To Do Baby Noah.
In Character Street, He Replaces Big Bird.
In 2018, Family's Television Workshop Made A Movie Called Follow That Elf!, Which Buddy Was The Star Of That Movie. The Plot Is The Same As Follow That Bird, But With Buddy, Along With Many Other Character Street Characters Like Mike, Bugsy, Rodney, Scott And Barney.