Baby Beethoven is the 10th Baby Einstein video. It was released on October 22, 2002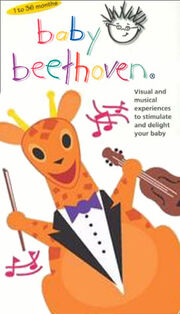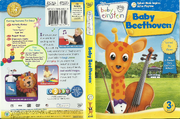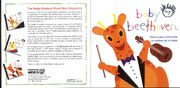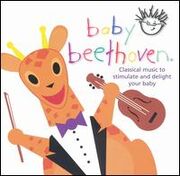 Characters:
Beethoven- A musical giraffe and a professional violinist.
Pavlov- A brown dog who is somehow related to Bryce, he's brown and is pretty lovable by the community.
Quacker- A duck with a red scarf, he has been a cute character, and he loves the water.
MacDonald- A free spirited teenage heifer and who is the sole female in the video, Wellington's daughter, and the supreme bovine heir
Isaac- A circus Lion who previously hosted Baby Newton
Gregory- The older son of Neightan.
Segments
Opening & Intro
Symphony No. 1
Walking Owls
Subway Train
Pavlov The Dog Walks Around The Lake But He Hears A Squeaky Toy And A Duck Quacking Pavlov Screams And Runs Away Quacker The DuckSees Pavlov's Bone And Steals It Pavlov Heard That His Friend Quacker The Duck Stole His Bone
Symphony No. 3
Pavlov Chases Quacker
Pavlov Finally Got His Bone
Fur Elise
Webster The Spider
Wellington The Cow Beethoven The Giraffe Pavlov The Dog Isaac The Lion Quacker The Duck Neightan The Horse Have A Parade
A Bear Plays The Violin While Dogs Play In The Rain And A Pig Runs Around
Baby Pictures
Penguins Go Up The Stairs
Beethoven The Giraffe Plays The Saxophone
Pop Up Bears
Synphony No. 5
Isaac The Lion Cranks A Box And A Dog Pops Up
Dog Toys
Balls Go Down A Ramp
Liquid Motion & Kinetic Toys
Symphony No. 6
Doors
Stacking Rings And Rolling
Symphony No. 9
Webster The Spider with Confetti
Credits
Trivia
Julie Clark's opening voiceover is slightly off from the audio during the warning screen.
This is the last video to have a warning screen.
After the tune up ends there is no page curl transition.
Also, before the opening credits, it gives you some information about Beethoven in real life.
In the last seen before the end credits. When the confetti drops on the pull-along spider toy (in style of Dick Clark), you can barely hear the clapping in the applause.
Earlier in the video, Sierra Clark was playing a drum, but before the thank you screen comes up in the end credits, she is now playing a violin.
The title cards For the symphonies and wellington's victory, the Beethoven info and the thank you screen are missing in the 2008 version.
This is the last DVD to have the 2000 DVD Menu style.
The giraffe eyes' are different compared to the 2001 DVD release.
This Video Was Released Because Of Popular Demand
Gallery
Community content is available under
CC-BY-SA
unless otherwise noted.