Baby Bach is the 3rd video. It was released on November 3rd, 1998.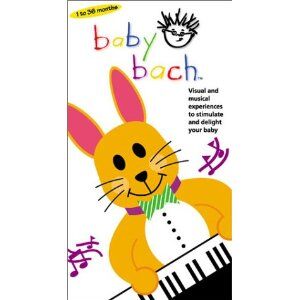 Bach The Rabbit
Sunny The Rabbit
Julie The Sheep
Zylon Dragon
Octopus
Meep Meep
Baby Giraffe
Dinosaur in Egg
Snowy Owl
Greg the Horse
Mozart the Bear
Isaac The Lion
Morris Moose
Izzy the Tiger
Pavlov The Dog
Sugar the Cat
Gabba The Cow
Nick the Duck
Total Drama Lyndsay
The Orchestra tune up in the beginning of Baby Bach was the exact same tune up as in at the beginning of Baby Mozart and at the beginning of every Classical Baby video on HBO.
On the back of the cover, we see images with Sierra Clark playing with a Rhythm Mini Pals Orchestra Shaker, then the Balloons, then Zylon the Red Dragon, then Morris the Moose, then G. G. Giraffe, then Nathan The Horse.
Kiki Has a Total Drama Girl Named Lyndsay! & She's a Teacher.
[[Category:1]
Community content is available under
CC-BY-SA
unless otherwise noted.